Oct 2, 2020 11:04 AM Central
Tessa Bowers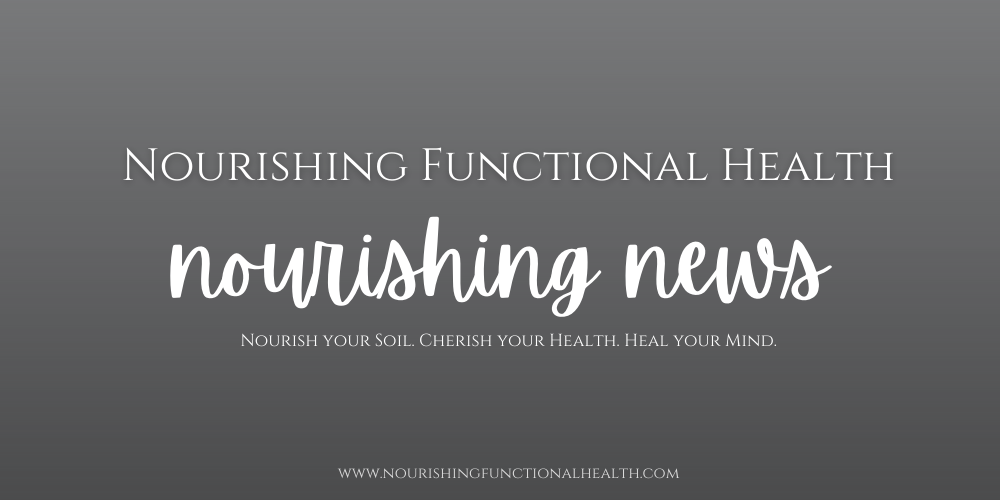 THE PERFECT JAR OF APPLE BUTTER
In Virginia our apple season is almost over. I have been busy making all things apples. One of our favorite recipes, is Apple Butter. I love to keep extra jars of it in the freezer for eating and they make the perfect gifts! I have so many fond child hood memories involving apples. Apple picking, apple butter, apple sauce, apples with peanut butter or carmel, and my dads amazing apple pie. His crust recipe was the perfect combination of flakey, fluffy, and soft. Unfortunately when he passed away his filling and crust recipe went with him. It has taken me many years to tweak and perfect an apple filling recipe worthy of his deliciousness.

We used to buy pre made apple butter at road side stands or fairs, but when I discovered how much processed sugar went in to each of those delicious bites, I had to create a healthier version. This recipe allows us to still enjoy that goodness but without the toxic effects of processed sugar. My daughter loves to have a little bit of apple butter every morning on her gluten free waffle. White sugar in our home makes for an extra crazy day in our special needs household, not to mention its just not good for you body! After months of tracking, Raising a kid is hard enough, why make it harder.
Studies show that sugar is as addictive as cocaine. Sugar consumption can create a short-term high (due to the dopamine release) and a spark of energy in the body, but these empty calories are more harmful then you think. Refined and processed sugars contain virtually no vitamins, minerals, protein, fat, fiber, or other beneficial compounds. Unbalanced blood sugars can not only lead to a variety of diseases and metabolic conditions, but wrecks havoc on adrenal and hormone function.

After much tweaking, this Apple Butter recipe was developed. Not only is. It healthier, but it contains no processed sugar, and its easy peasy thanks to my crock pot). Bonus is waking up to a. home that smells amazing! Recently we were at a farmers market that was doing samples and my daughter told it didn't taste very good, that mine was way better! A total mommy win in my books.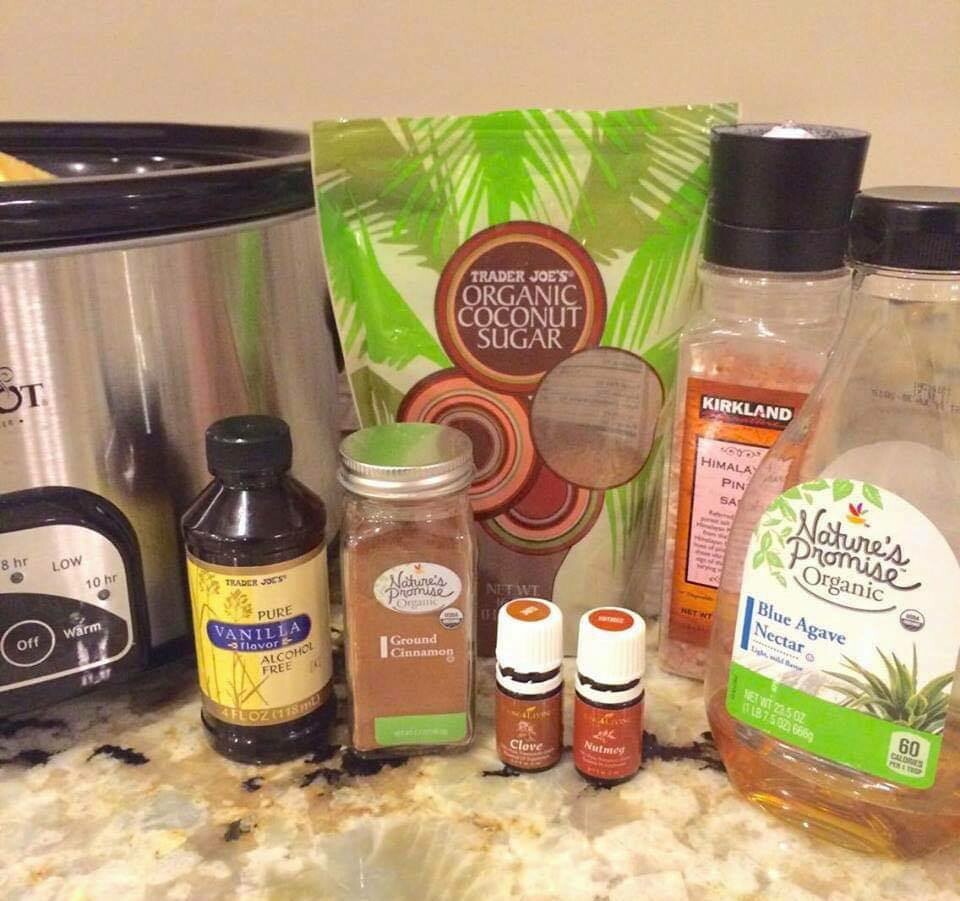 The Perfect Jar of Apple Butter
I love to make this recipe at night time so I can wake to that amazing apple-cinnamon smell in the morning. Definitely no cases of the grumps on apple butter mornings.
10 Medium-Large Apples (approx 6.5 lbs)

1/3 cup Organic coconut sugar

1/4 cup or 3 trickles of

Date Syrup

, Local Honey,

Maple Syrup

2 tsp - 1 Tablespoon organic ground cinnamon

2 drops Young Living

Nutmeg Vitality

Essential Oil

1 drop Young Living

Clove Vitality

Essential Oil

1/4 tsp Salt (I like Pink Himalayan salt)

1 Tablespoon Vanilla Extract (choose organic when possible)

Instructions:
1. Peel, Core, and slice apples. I tend to use a variety of sweet and tart apples. Pick from many of the varieties out there, choosing the ones you and your family enjoy the most.
2. Add apples to Crock pot plus all the other ingredients listed accept the Vanilla Extract.
3. Cinnamon is to taste, we love cinnamon and use about 3/4 tablespoon of ground cinnamon. If I'm low I will use Young Living Cinnamon bark essential oil (1-2 drops) with 2 tsp ground cinnamon. I prefer to use all ground cinnamon in this recipe as it helps add your classic apple butter color.
4. I find adding the honey or agave nectar tricky. If you are like me and hate to put sticky stuff in a measuring cup and then have to clean it out later, use the trickle method. Either a spoon or with a squirt top, trickle in a zig zag pattern back in forth across your apples approximately 3-4 times.
5. Once all your ingredients have been added, stir using a metal or wooden spoon. No plastic spoons when using essential oils.
6. Set Crock pot on low and place lid.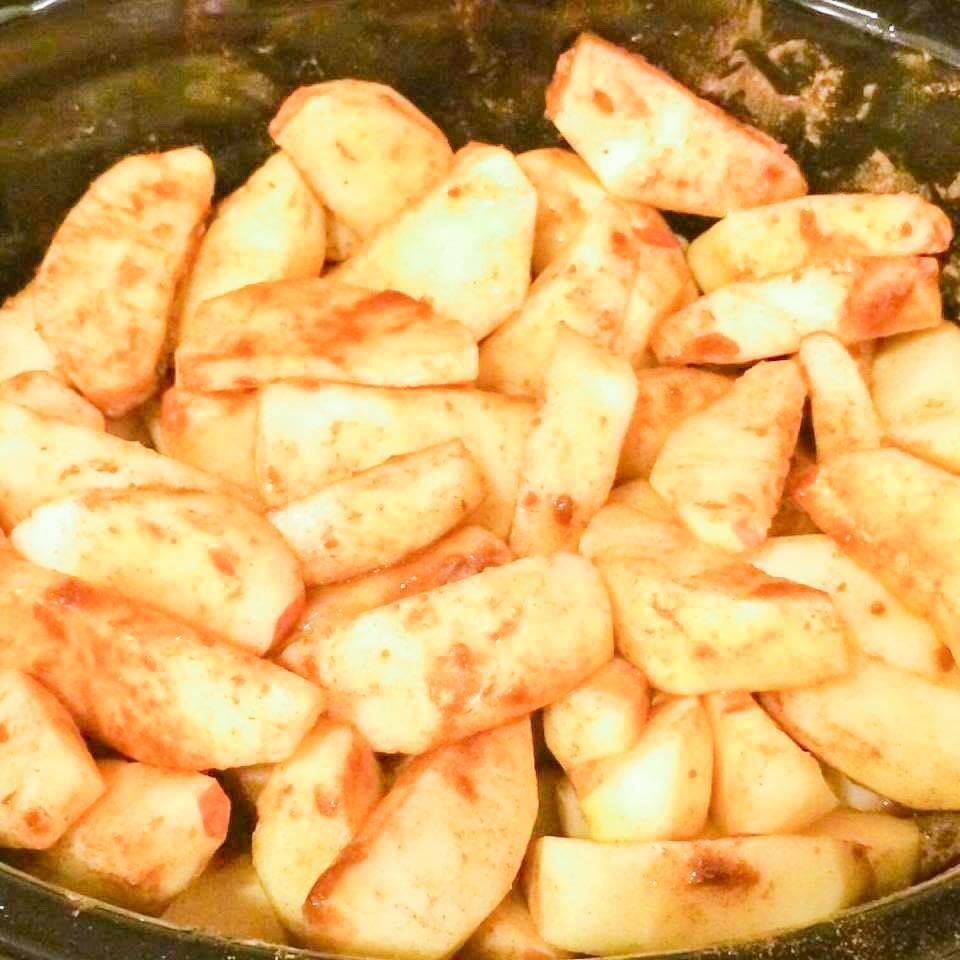 7. 10 hours later, stir your apples, breaking them down slightly so your mixture is a combo of smooth and chunky, add your Vanilla Extract, stir again, and replace lid.

8. Cook on low for 2 more hours.

9. Using your immersion blender, blend your mixture until well blended (careful not to splatter, its hot!) At this step, if your apple butter is a little watery, continue to cook on low in the crock pot with the lid off until desired consistency is met. I find this varies on the kinds of apples I'm using, some are more juicy then others. Some days its perfect, other days I have to cook for 1-2 more hours.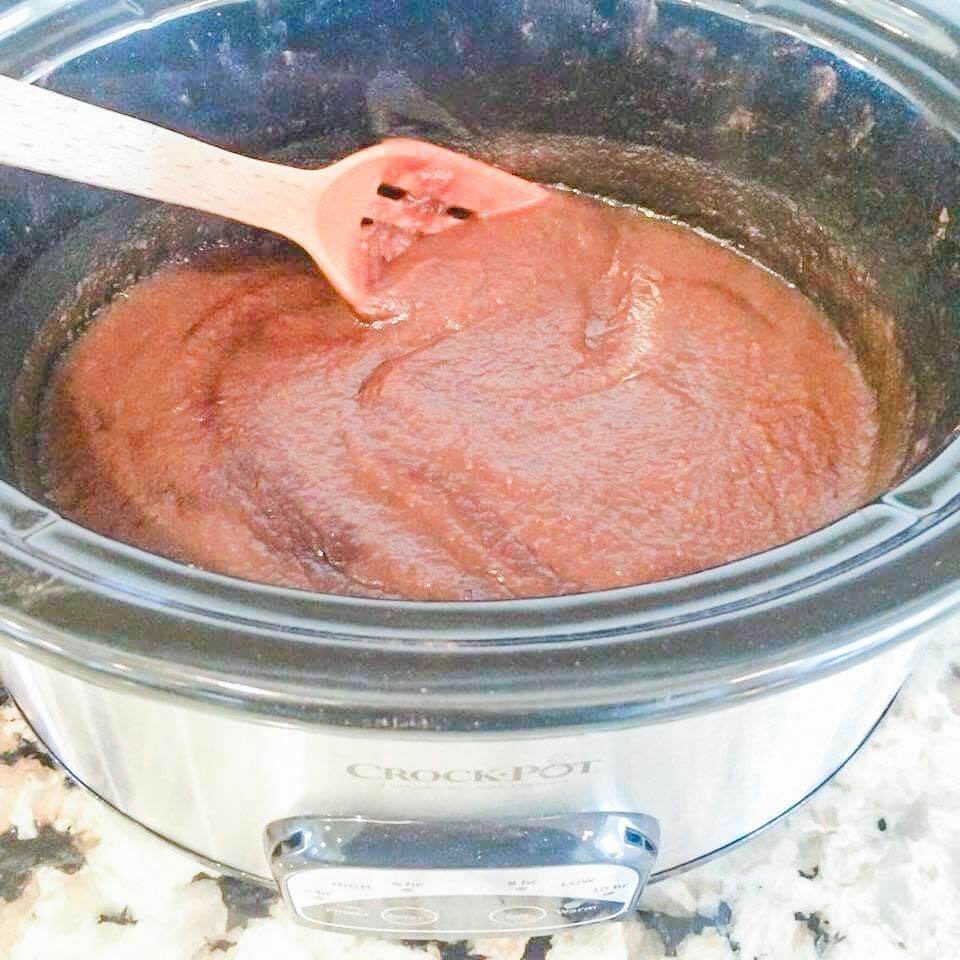 10. Be sure to stir every 30 minutes while the lid is off. As it thickens you may see bubbling or even worse it could burn.

11. Add mixture to mason jars, leave a little gap at the top, let cool slightly before adding lid. The heat from the apple butter will aid in sealing your jar. I like to use a small or medium size. Ideal for storage and/or perfect for gift giving. Little 4 oz jars of this would make great teacher, co-worker, and family gifts.

12. Keep a jar or 2 for you and then serve on your choice of bread, crackers, fruit, or just eat if off a spoon. We love it on top of waffles, dairy free cream cheese, or just off a spoon! Freeze extra jars for eating or gifting later.
PRINTABLE Recipe card: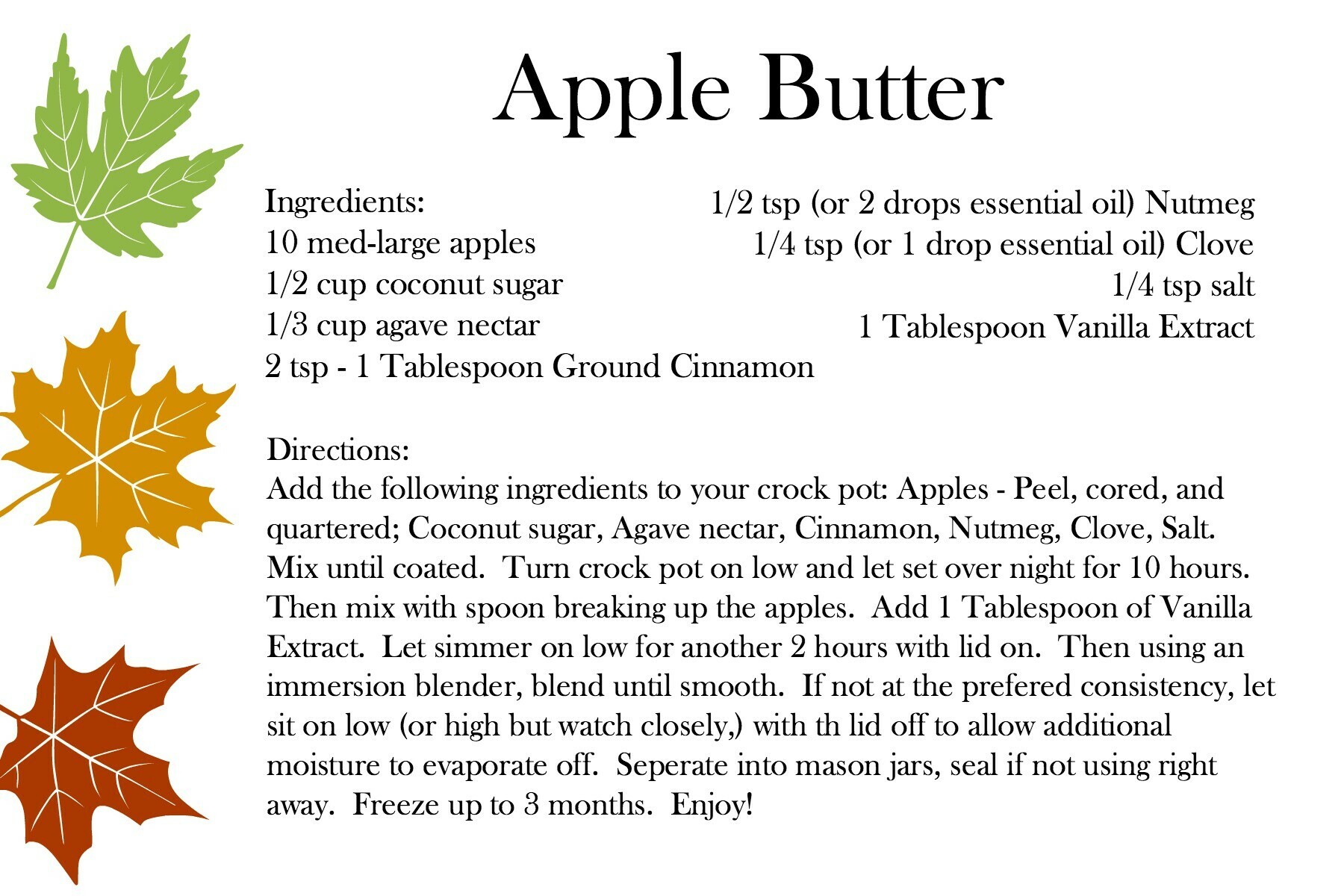 Printable labels:
I used
Avery labels #22807
but you can print to paper, cut them out and tape them on. If using the Avery labels, when printing do not select fit to screen.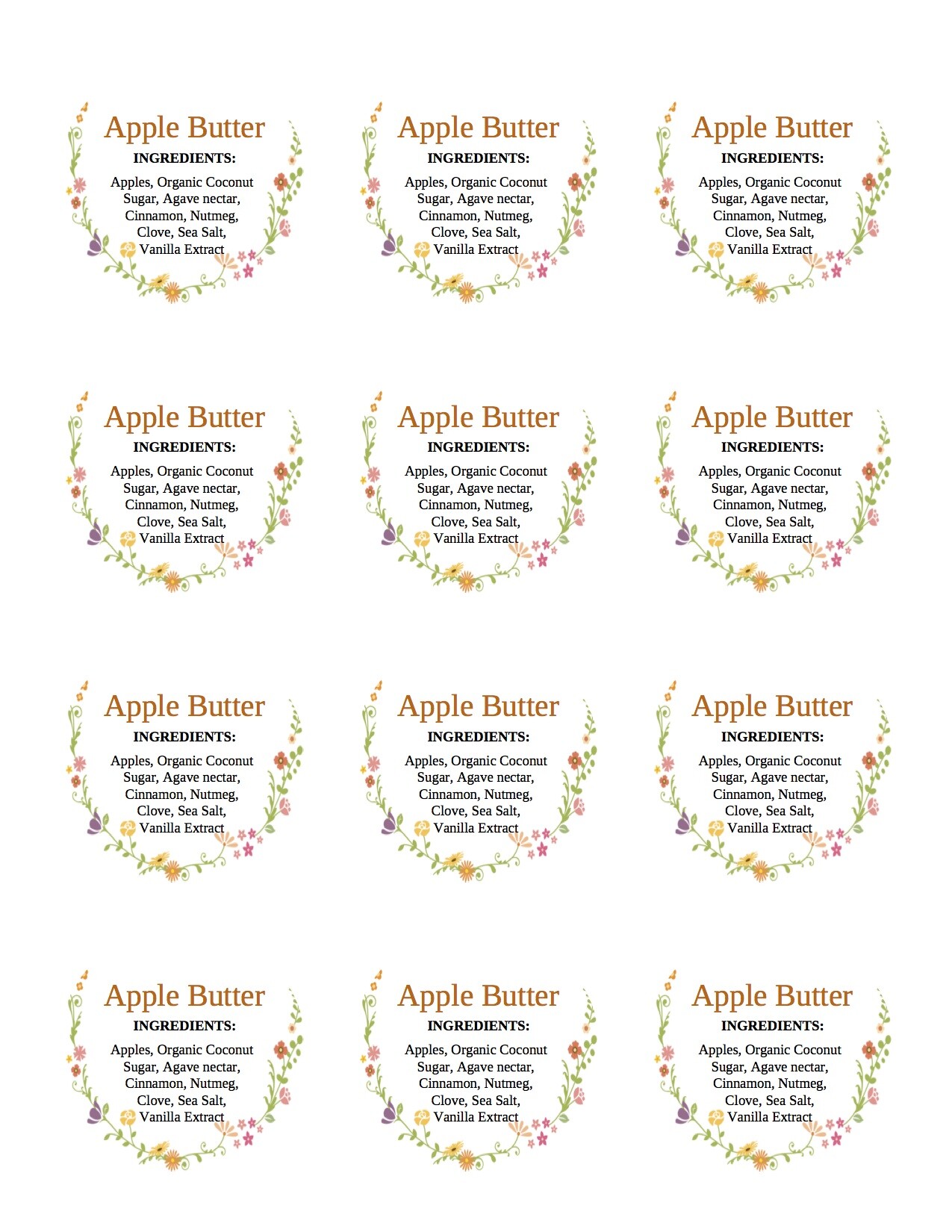 For more great recipes and health tips sign up for
my blog here
.
Struggling with chronic illness and seeking ways to improve your health and relieve your symptoms?
Join me today.