Jan 5, 2021 11:25 PM Central
Tessa Bowers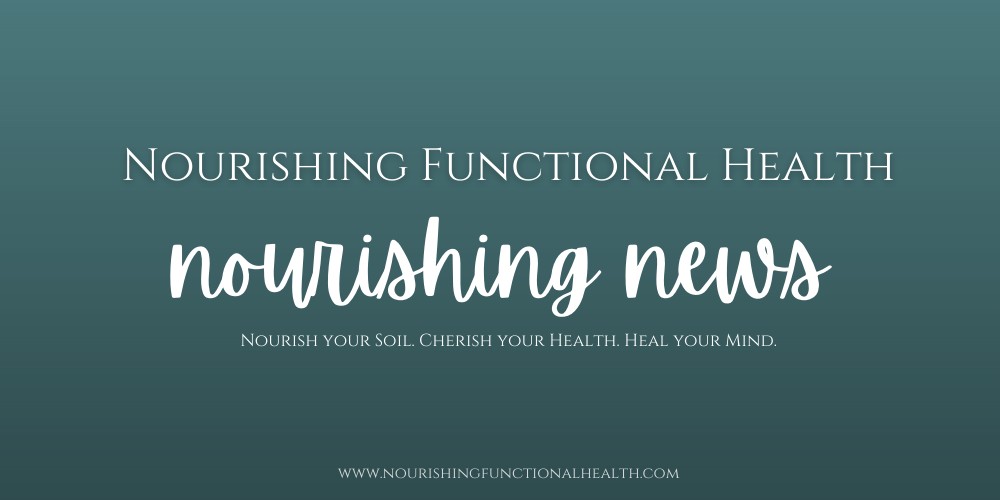 Healing Chicken Curry Soup
I created this soup several years ago when I had a doozy of a head cold and all I wanted to do was to be able to breathe through my nose again. At the time I wasn't using essential oils for support and knew no other way. I love this soup and so does my 8 year old daughter. It is incredibly nourishing and fantastic for anything head or chest or even just to kick your immune system in the pants.
Packed with immune supporting goodness, such as bone broth, garlic, curry, cilantro, and ginger. Since its creation I've made a couple of modifications, but it continues to be a favorite comfort soup that offers us a huge added immune boost.

Bone Broth is a highly nutritious broth typically made with bones and connective tissue from cow or chicken. It may help to protect joints, fight osteoarthritis, aid in improved sleep and support weight loss. It is most know for its capability to reduce inflammation and promote healing in the gut. If you have histamine issues, substitute with veggie broth.

Green chilies contain Vitamin B6, vitamin A, Vitamin C, Iron, Copper, Potassium, are a rich source of fiber, and loaded with capsaicin which not only makes the pepper spicy, its known to help clear your sinuses and reduce pain/discomfort.

Coconut Cream/milk is full of important nutrients like manganese and cooper and may boost your heart health. When choosing, be sure to choose a can that is BPA free and free of sweeteners.

Garlic is a must have in the kitchen as its good for fighting all types of infections: fungal, bacterial, parasitic, and viral. During my daughters recovery from Topical Steroid withdrawl (thankfully it was a very brief stint lead by a dumb decision on my part), we add crushed garlic in a tea strainer to her baths to kill the infection on her skin. It's also great at helping to regulate blood sugar, lower blood pressure, lower cholesterol, enhance fat burning, reduce hunger sensations, relieve arthritic pain, and reduce bowel gas to name a few. While raw is better, you will still see some of these benefits after cooking.It is a nutrient powerhouse, garlic is fill of vitamins and minerals, including vitamin B6, manganese, selenium, vitamin c, iron, potassium, and copper. Garlic contains allyl sulfides, an anti-inflammatory, cancer-fighting compound that studies have shown to slow the growth rate of cancer cells.Studies have shown that it can protect the liver from some toxins, and help lower blood sugar levels.***Garlic can interfere with some medications, please consult your doctor prior to starting a daily consumption of garlic.

Carrots among other things, contain vitamin C, an antioxidant known to help boost the immune system and prevent disease. Vitamin C can help to reduce the severity of a cold, and the length of time it lasts.

Curry powder is a popular spice mix that has a number of valuable health benefits, including the prevention of cancer, protection against heart and Alzheimer's disease, as well as pain and inflammation. It also improves bone health, boosts immunity, and increases the liver's ability to remove toxins from the body. Word of caution: Curry powder, thanks to its turmeric ingredient has anti-coagulant properties and you should consult with your doctor prior to use. Some research shows curry power can irritate the gall bladder, check with your doctor prior to using.

Lime is an excellent source of antioxidants. Antioxidants protect your body by preventing or stopping damage caused by free radicals, or chemicals that harm cells. They are also excellent sources of potassium, vitamins A, B, C, and D, calcium, and magnesium. The vitamin C and antioxidants in limes can strengthen your immune system and help your body fight off infections such as the cold and flu virus. It may also shorten the duration of an illness. Also great for reducing inflammation!

Ginger has a long history in traditional and alternative medicine. It has powerful antioxidant and anti inflammatory properties, We have used it for tummy upset, to reduce muscle pain and soreness, to support our blood sugar and reduce our risk of heart disease. It is also fantastic for supporting our immune system and helping with clarity.

Cilantro contains vitamins C, vitamin A, and K, as well as trace amounts of the following: folate, potasssium, mangenese, choline, beta-carotene, beta-cryptoxanthin, lutein, zeaxanthin. Also known as corriander it is full of antioxidants that demonstrate immune-boosting, anticancer, anti-inflammatory, and neuroprotective effects.

Over the years, I have tried adding additional veggies but it is just not the same. In the last year it has been necessary for me to lead a more vegan lifestyle, so I omit the chicken and bone broth and use more Veggie broth or a home made veggie stock. My daughter still gets the great benefits of bone broth though.
Healing Curry Soup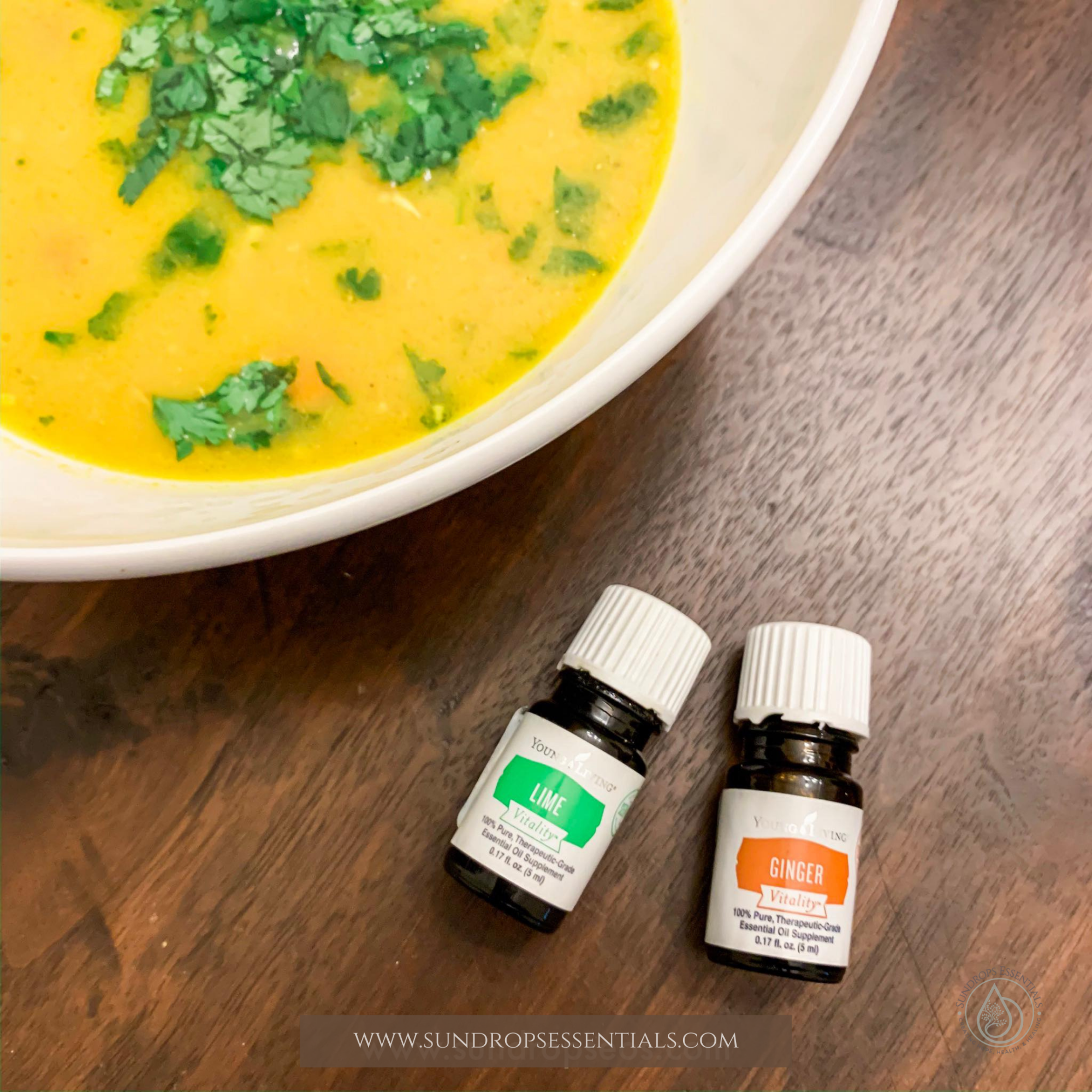 Ingredients
2 Chicken breasts, cooked and chopped
1 quart bone broth (or home made vegetable stock)
32 oz of Chicken or Veggie broth
1/3 of a 4.5 oz can of chopped green chilies, organic if possible
1/3 of a 14 oz can of Coconut Cream
2 carrots, chopped
1 T minced garlic
Himalayan Pink Salt & Pepper to taste
1 - 1.5 T Curry powder

2 drops Young Living Lime Essential Oil (order

here

)

1 drop Young Living Ginger Essential Oil (order

here

)

1/3 - 1/2 bunch of chopped Cilantro (optional)
INSTRUCTIONS
1. Cook and chop chicken breast (or use Rotisserie chicken, for a faster meal.)
2. Add everything through Curry Powder to a pot.
3. Simmer for 15 minutes or more.
4. Then add Cilantro, Lime and Ginger Young Living Vitality oils and simmer an additional 5 minutes.
Oh and if it makes it that long, its even more delicious the next day
For more great recipes and health tips sign up for
my blog here
.
Struggling with chronic illness and seeking ways to improve your health and relieve your symptoms?
Join me today.