Oct 2, 2020 12:58 AM Central
Tessa Bowers

Luxurious 3 Ingredient Lotion
I am excited to share this recipe with you as it is one of my all time favorite DIY recipes. Not only is this lotion inexpensive to make, it makes the perfect base for all the lotions in your life. It is important to me and my family to live a less toxic life style.

Between my mysterious illnesses and my daughters Autism and ADHD diagnosis' it is imperative that I not introduce anything that could wreak havoc on our health.

Did you know that our skin is our biggest organ and it absorbs everything! The lotions we choose for dry skin, oily skin, itchy skin, bumps, bruises, stinky feet, and more do not need to contain any one of the ingredients that can damage the immune system, confuse your hormone system, create allergies, or worse cause cancer. Unfortunately the products you purchase at the store are full of all kinds of nasty ingredients that do just that.

Great news though! Its super easy to make your own base that is not greasy and as moisturizing as you need it to be. Enhance the cream with any number of essential oils and you can achieve anything!
All you need is filtered or distilled water, a carrier oil,
emulsifying wax pastilles
,
and your choice of essential oils, we prefer
Young Living Essential Oils
because of their growing practices and purity. This recipe can be made in the microwave or in a double broiler, your choice!
Carrier oils are plant based extracts from nuts or seeds and are different then essential oils. In fact you need a carrier oil when applying most essential oils so you don't cause irritation, especially important in kids, babies, and pets. Carrier oils very often have a very minimal smell and are often used in cooking. They have a thicker consistency, making them great to blend with essential oils. There are so many, how do you choose which one is best for you and your family?
Different carrier oils can help certain skin conditions and improve the look and feel of your skin. When used properly, they can aid in the control of oil production, hydrate skin and hair, and even provide anti-aging benefits.
Quick List of Carrier Oils for the Skin
Carrier Oils for normal or combination skin
: Sunflower Oil, Coconut Oil, Pomegranate Oil, and Jojojba oil
Carrier oils for oil skin:
Tamanu oil, Apricot, Grapeseed oil
Carrier oils for dry or aging skin:
Rosehip oil, Evening Primrose oil, Sweet Almond oil, Avocado oil.
I went with avocado oil because it is packed with fatty acids, making it a wonderful moisturizer for dry skin. With the change of seasons here, our skin is missing the extra moisture we normally get from the humidity in the air. It also contains vitamins A, D, and E that help boost collagen production which are known to fight aging signs such as wrinkles.
Great news though, you can totally use more then one carrier oil! I added a splash of Sunflower oil to the mixture because it is rich in Vitamin E. Vitamin E is a powerful antioxidant that may be effective at reducing UV damage in skin. When applied topically it may help to nourish and protect your skin from damage caused by free radicals. I would love to tell you I have lived a perfectly healthy life...and if I had my medical state would definitely look a lot different.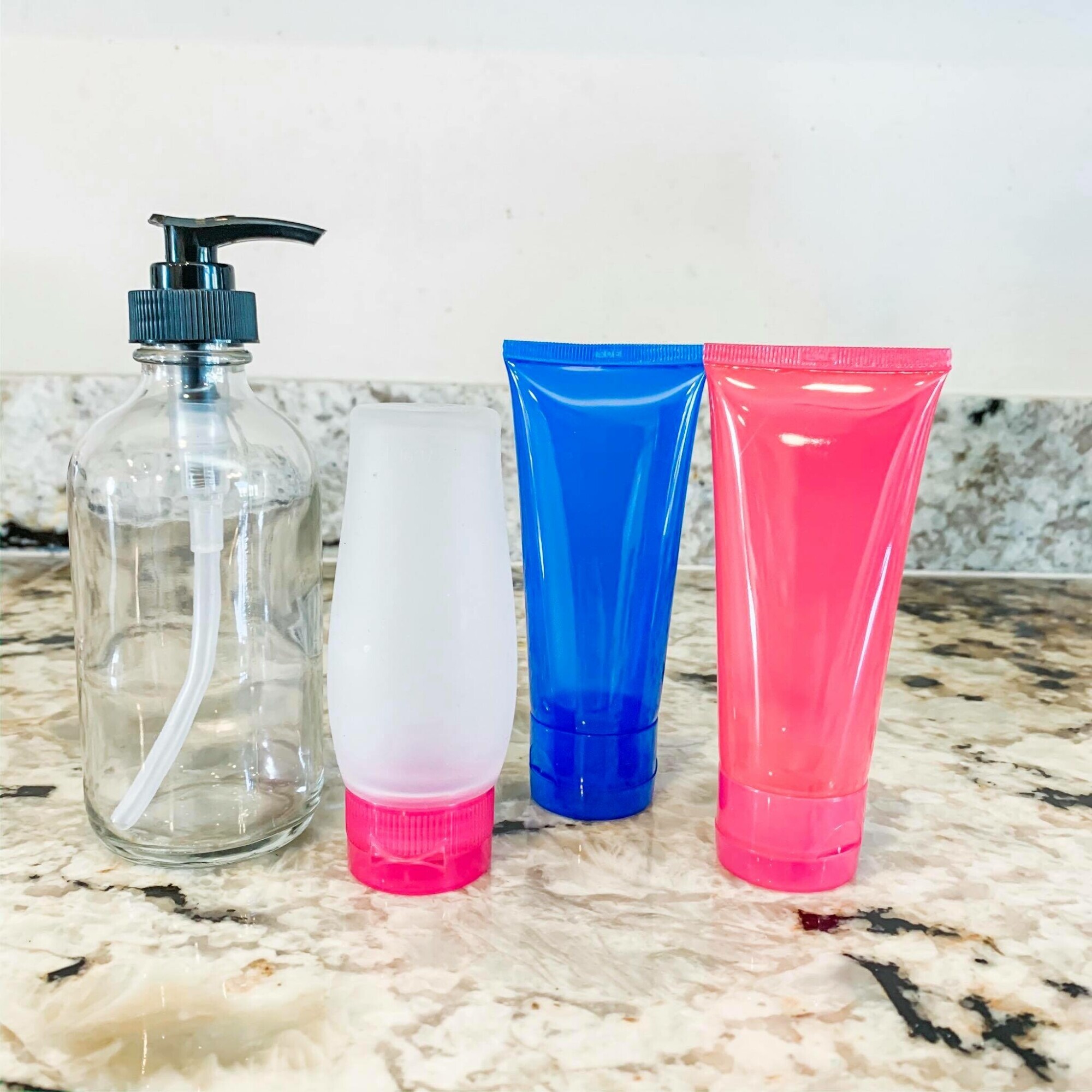 Next, choose your container. While we melt, blend, and shake the ingredients in a mason jar, I would strongly suggest you pour the mixture in to your preferred container before it solidifies. Been there, done that and it is time consuming and messy.
With so many great options available, you can choose something fancy as a
glass lotion dispense
r
to a silicone tube or even these travel safe containers from Target's discount section. I love making this recipe for teacher, friends, and family gifts. Smaller containers can easily be dressed up and personalized on a budget. I use www.avery.com to make my labels., you can even have them print the labels for you or choose to print them your self. Print either on one of their labels, sticker paper, or print on paper and cut out and tape to the container. No one needs store bought junk that will not only irritate your skin but migrate in to your blood stream wreaking havoc to your liver, gut, and more.
DIY 3 INGREDIENT LOTION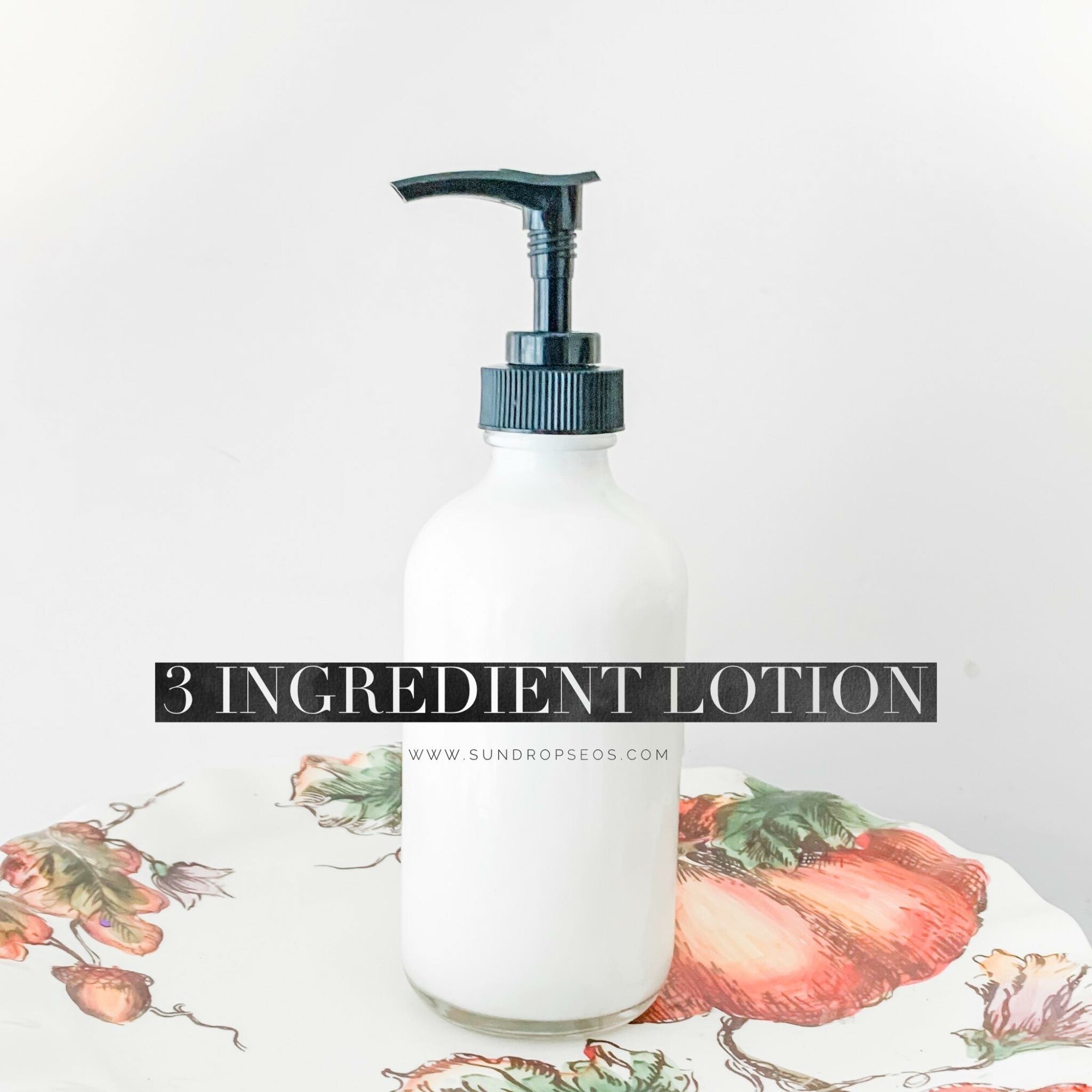 Ingredients
1/4 cup Emulsifying Wax Pastilles
1/4 cup carrier oil of choice
1.25 cups Hot (not boiling) water
30 drops (total) of Young Living Essential Oil of choice
Instructions
1. Melt emulsifying wax pastilles in mason jar (roughly 30 seconds, stir and repeat) or use a double broiler. Mix with wooden stick, no plastic.
2. Add Carrier Oil and reheat to melt to a liquid (roughly 20 -30 seconds additional)
3. Add Hot, but not boiling water to mixture. Reaction is normal (changes to white instantly)
4. Add Young Living Essential Oils of choice (see below for our favorite combinations)
5. Cap and shake vigorously.
6. Pour in to containers and refrigerate until firm.

Counter safe for storage. Another reason I love this recipe, is that it won't melt in room temperature like body butter does.
My Favorite Lotion Combinations:
Relax
(perfect for a foot massage at bed time or as gift for teachers, etc) 20 Stress Away 10 Lavender
Soothe
(soothe the skin and emotions) 10 Copaiba 10 Roman Chamomile 10 Lavender
Smoothe
(smoothe the appearance of fine lines) 10 Frankincense 10 Lavender 10 Neroli
Ease
(we use after work outs, growing discomfort, and even headaches) Add & Melt Magnesium flakes to the base mixture 10 drops PanAway® 10 drops Valor® 10 drops Peppermint or Copaiba
Essential Oils for all skin types and sensitive skin
: Geranium, Helichrysum, Lavender, Neroli, Roman Chamomile, Rose
Essential Oils for Oily or problem skin:
Cedarwood, Clary Sage, Geranium, Juniper, Tea Tree
Essential Oils for Dry skin:
Clary Sage, Lavender, Sandalwood, Ylang Ylang
Essential Oils for Dry and Aging skin
: Clary Sage, Sandalwood, Ylang Ylang, Frankincense, Myrrh, Lavender
For more information on essential oil usage and great recipes, join

here.



Follow me on Social media for more great recipes and information!
Facebook: https://www.facebook.com/SunDropsEssentials
Instagram: https://www.instagram.com/sundropsessentials/
Pinterest: https://www.pinterest.com/sundropsessentials

---